Thermwood Cut Ready 43 Machining a Door and Matching Drawer Front Using Diamond Tooling
This video shows the powerful Cut Ready 43 machining a door and matching drawer front in MDF using diamond tooling.
The Cut Ready 43 shown below is equipped with a 5 by 8 table, a 21-position tool changer and a high flow vacuum hold-down system (additional table sizes and options are available). It has many of the features of the Cut Center, but at a lower price. Just like a Cut Center, it can help you quickly and easily create most products a cabinet shop would want to make without a CNC programmer (only operation training is required).
For More Info on the Cut Ready 43, please click here.
Learn More about Artie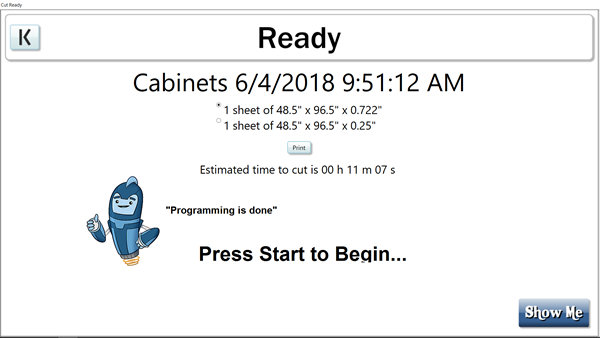 Cut Ready doesn't need a programmer because there is already one inside the control. We call him "Artie".
Despite the cute name, Artie is actually a cutting edge, artificial intelligence engine inside the Cut Ready control.
He is the first A.I. dedicated to making your manufacturing life easier to handle. While he is a CNC programmer and designer at heart, he also watches over your shoulder to make sure everything goes smoothly and efficiently.
You tell him what you want and he creates a program to make it. Be it cabinets, doors, moldings or furniture, Artie will program it for you!
These are not pre-programmed libraries. No part programs exist in the control until Artie creates them. He is already capable of programming tens of millions of unique products and is constantly learning how to make and do more and more new things. Artie is easy enough that virtually anyone can work with him with little or no training. For more on Artie, click here.
© 2015 Thermwood Corporation. All rights reserved.